NY Auto Repair Shop Insurance
Proudly serving the insurance needs of auto repair shops in Highland, NY and all of New York since 1990.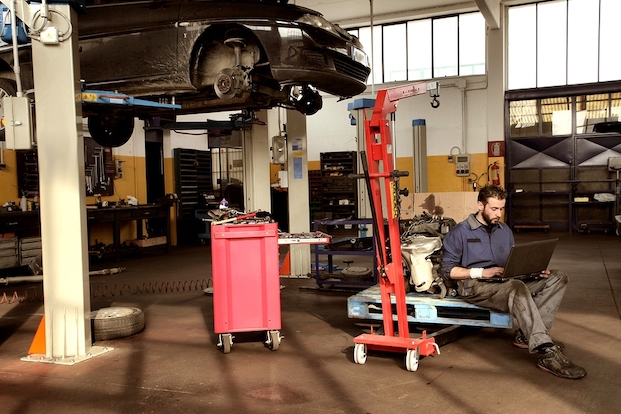 Auto repair shops in New York and elsewhere have unique insurance needs. At Accent Insurance Services, LLC in Highland, we understand the auto repair business. This gives us the edge when it comes to putting together insurance policies that give our clients the protection they're looking for in their auto repair business.
Let's help you find the coverage you need — request a free quote online or call (845) 883-4280.
On-Site Insurance Protection
There are so many risks associated with operating an auto repair shop. It's not enough to have a generic general liability policy that doesn't address the special circumstances of an auto repair business.
Every day, your site handles and houses vehicles valued in the thousands of dollars. While these vehicles are in your care, you're responsible for their safety.
Even though you run a safety-minded auto repair shop, things can go wrong that are outside your control. Equipment could malfunction, an employee could make a disastrous error, overnight theft or vandalism could occur, a natural disaster could damage the vehicles in your care.
The right insurance protection can help protect you and your business investment from events like this.
Insurance Protection For Employees
Your valued employees have been chosen for their experience and expertise. But even the best employees make mistakes.
Each day, your employees drive vehicles on, off and around your auto repair lot as part of their regular service. Vehicles accidents need to be covered, as well as any injuries that may occur to one or more of your employees.
In addition, your auto repair shop contains many hazardous materials and potentially dangerous equipment. If an employee is hurt at work, you need to rely on your insurance policy to protect your employees and your business.
Insurance Protection For Your Customers
As the owner of a New York auto repair shop, it's likely that you have a policy that customers cannot enter the mechanic's working area of your auto repair shop. It's a smart policy and one that may get you better rates on your insurance. Still, your auto repair policy should cover customer injuries while on-site in your shop.
Accent Insurance Services, LLC can get you the insurance coverage you need to protect your auto repair business in New York. Request a free quote online or by calling (845) 883-4280.
---
Need an insurance quote? Get in touch!
Access quotes from New York's most trusted insurance carriers. It's comparison shopping at the click of a mouse.